Samsung devices emit a unique code when moisture is detected. It's possible the moisture has come from your hands making it appear as though there was an error with the device. In this article, you'll find out how to fix this issue and prevent future occurrences.,
If you have recently purchased a Samsung device and are experiencing the "Moisture Detected" error, this article will help you fix it.
The "Moisture Detected Error on Samsung Devices" is a problem that has been present for a while. The error can be fixed by disabling the moisture detection feature.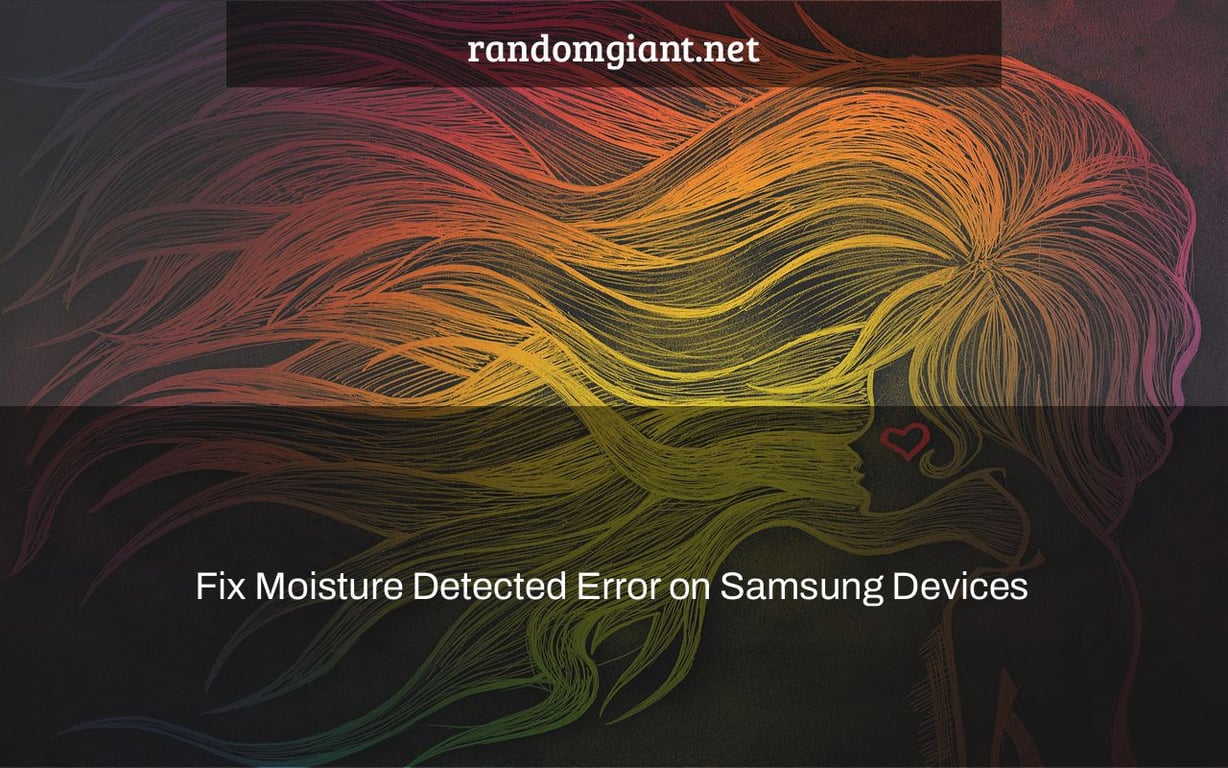 Moisture in the charging port is a fairly typical problem with Samsung Galaxy phones. The worst case scenario is when you are in a rush and attempt to charge your gadget with a charger, but it refuses to charge and displays an error message that says "Moisture detected."
The challenge now is how to turn off moisture detection. You don't have to be concerned about it. We've provided answers to the moisture detected in charging port problem in this article.
To detect moisture build-up in a charging port, Samsung smartphones are equipped with humidity and moisture sensors. When the sensor detects moisture, it shows the error message "Moisture detected" if the amount is higher than usual. It refuses to charge the phone's battery and displays a warning message on your screen.
Here are several options for dealing with moisture in charging ports. So, without further ado, let's get started….
Related Articles:
Top Techniques for Correcting Moisture Detected Errors
Method 1: Ensure that the charging port or USB port is clean.
If your USB port is clogged, the first thing you should do is clean it.
Dip a little piece of tissue paper into the charging port to test it. Allow it to absorb the liquid for a few minutes.
Additionally, blow air into the port to clear any dirt or debris that is preventing the gadget from charging.
Place your phone under the ceiling fan. This should aid in the evaporation of moisture on occasion.
If the problem remains after completing the steps above, go on to the next option.
Method 2: Turn the device off and charge it
This is one of the most effective and straightforward methods for resolving the moisture in charging port problem on your Samsung Galaxy phone.
To begin, turn off your phone and then plug it in to charge it. The greatest aspect is that no warning notice will appear.
Method 3: Make use of a hair dryer
We're all familiar with the function of a hair dryer. It uses hot air to dry your hair after it has been wet. If moisture is detected in the charging port, a hairdryer may be used. Make sure the air produced by the dryer is warm but not hot, since this might harm the components within the port.
If you're having trouble charging because of moisture in the USB port, try this solution.
If there is moisture in the charging port, Method 4: Use Wireless Charging.
If you can't charge your phone using a charger, you may attempt wireless charging. When nothing else works, this approach comes in handy.
Though this isn't a permanent fix for the problem, it may help you get by for a while.
Method #5: Place your phone in direct sunlight.
Although this solution is unusual, it has shown to be effective for many Samsung customers who are experiencing this problem. I'm not suggesting that you leave your phone in direct sunlight since it will do more harm than good. However, you may set your phone in direct sunshine for a few minutes or hours to let the moisture to evaporate. It is going to take some time. After that, plug in the charger and turn on your phone to see whether the problem has been resolved.
Method 6: Force the Android system to shut down
Another easy approach to eliminate moisture detection difficulties on Samsung phones is to use this method.
The steps are as follows:
To begin, go to Settings and search for "Android System" in the search box.
To access the app information page, click on the Android system.
Then, press the Force Stop button.
After that, try charging your phone to see if the issue persists.
Cleaning the charger or changing the charging cable is method number seven.
If the moisture in charging port problem persists, we recommend that you check your charging cord first. If your cable comes into touch with any form of liquid or becomes wet, clean it before attaching it. If your charging cable needs to be cleaned, you may use tissue paper to do it, or you can replace it if the problem persists.
Method 8: Examine your phone for signs of water damage.
On the phone, there are specific stickers that check for liquid contact. It is included by all manufacturers to determine whether or not the phone has been harmed by water. So, how does it work?
Any liquid that comes into touch with the stickers causes them to change color, allowing the technician or buyer to determine if water has entered or not.
Simply take out the SIM tray on your Samsung phone to examine this. You'll see a white sticker on the phone's internal side after you take it out. The sticker will now be red or pink in hue if the liquid has penetrated. This simple indicator will tell you whether or not your phone has been harmed by water.
If you notice a color change, take your phone to the local mobile center right away.
Restart your device in Safe Mode (method 9)
Moisture detected in charging port errors may sometimes be caused by third-party applications on your smartphone. If you can't figure out which app is causing the issue, try restarting your phone in safe mode.
So, here are the measures to take:
First and foremost, turn off your smartphone.
To turn on your phone, press and hold the Power button.
Press and hold the volume down key as soon as you see the screen come on.
Hold the key down until the phone finishes booting up.
Safe Mode will now appear in the bottom left corner.
Keep the Volume Down key pressed.
Now that you're in Safe Mode, try charging your phone and see if the issue persists.
Final Thoughts
We've covered the top nine techniques to fix moisture in charging ports on Samsung smartphones in this article. We hope you found this information useful! If you have any more questions about this article, we would be pleased to assist you.
Watch This Video-
The "samsung moisture detected won't go away" is a problem that has been present for a while. Samsung has released 9 fixes to fix the issue.
Frequently Asked Questions
How do I reset my Samsung phone moisture sensor?
A: The moisture sensor is located in the camera on Samsung phones. To reset it, take out your SIM card and turn off the phone for at least 15 minutes.
Why does my Samsung phone keep saying moisture detected?
A: This could mean a number of different things, but its most likely that your phone has been exposed to water and needs to be dried out. You can try taking your battery out for 30 minutes in an air-tight container or leave the phone open for several hours before turning it back on.
How do I get rid of moisture notification s20?
A: The current solution is to turn off notifications for the game.
Related Tags
samsung s21 moisture detected won't go away
samsung s20 moisture detected error
how long does it take for moisture detected to go away
how to disable moisture detected note 20
how to remove moisture from phone charging port